Pricing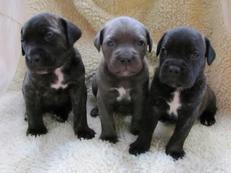 All pups are sold as companion pups, on a spay/neuter contract, for $2,000 which includes 8% NYS sales tax, effective May 1, 2016.

Casanova Cane Corso is a New York Start Licensed and Inspected Facility. PD #1008



---
Deposits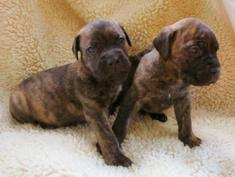 A deposit of $250.00 is required in order to hold a puppy for you. This money will be applied toward the purchase price of your puppy. It is non-refundable.

Casanova Cane Corso will not hold a puppy based on color. All deposits are non-refundable.

Reservations are done by picking order with temperament matching in mind. Our puppies are sold on a Companion contract. Companion puppies are sold on a sterilization agreement. Companion puppies are not the undesirable pups from the litter. They are simply pups who will not be used for breeding purposes. These pups are often show quality.
---
Terms of Sale:

1) Puppies are guaranteed to be free of all communicable diseases at the time of sale. Puppies will be checked by a licensed Vet, in good health with shots and worming to date. Puppies will also be microchipped and the buyer is responsible to register the microchip. The Buyer must have the puppy checked by a licensed veterinarian within 72 hours of purchase. Failure to do so will result in all guarantees being invalid. Seller accepts no responsibility for any communicable diseases after 72 hours after purchase.

2) If, during the above examination, a serious health problem is noted, Seller must receive a written statement from Buyer's veterinarian within seven (7) days from date of examination. Upon verification by Seller's veterinarian of stated health problem, puppy must be returned to Seller at Buyer's expense. When available, the Buyer will be provided with another puppy of the same sex and quality/value when such puppy becomes available.

3) Often when the pups go to their new homes, they undergo quite a bit of stress due to the change. That stress can cause their immune system to drop slightly. If there are any microscoptic parasites or eggs lying dormant in their system, they see this as an opportunity to multiply. The best of care is given to the pups, but sometimes the tiny little critters can lie dormant in their system, allowing them to "hide" from the medicine or treatment, only to reappear at a later time. Diarrhea is the usual result of a coccidia or a giardia infection. If your pup has watery diarrhea for more than 2 days, it is recommended that you drop a fresh stool sample with your Vet, so that a smear can be obtained. Your Vet will then prescribe you the appropriate antibiotic which will likely need to be administered for a week. The Seller treats all the puppies for the removal of microscopic parasites, worms, fleas, and ticks before leaving the premises. By signing this contract it is agreed that such nuisances are common to puppies and the Seller is in no way responsible for treatment, expense or any liability of the following: Giardia, Coccidia, worms, fleas, ticks, or ringworm.

4) Puppies are guaranteed to be free of any birth defects. Problems must be reported within 24 months from date of birth. After puppy is 24 months old, the Seller is no longer responsible for replacing the puppy/dog. Please contact Seller with any problems, as this will aid in our attempt to improve with future litters.

5) All puppies are guaranteed to be free of severe crippling defects up to 24 months old. If a severe hereditary condition is present before 24 months old, that severely lowers your pup's quality of life; another puppy will be given to you free of charge, when available. Written verification from Buyer's veterinarian, along with his contact information is necessary. Seller's veterinarian must agree with diagnosis and severity or replacement is not required. In this event, the dog need not be returned to Seller in order to receive a replacement.

6) Penn HIP evaluations are required if there is a hip problem (HD). Seller does not accept OFA results as sound proof of a hip problem. Penn HIP results of MODERATE or SEVERE HD will warrant a replacement pup. If the Penn HIP result shows MILD HD, the puppy is only replaced if it was bought as breed/show quality. If Buyer chooses to keep the defective puppy, proof of sterilization (spay/neuter) must be provided and registration papers must be returned to seller before replacement will be given. If pup has ever been bred, all guarantees are invalid. Only one replacement is given, regardless of circumstances. The Seller will select replacement puppy when available. A Cane Corso pup who spends much of his time in a crate will not have the hip guarantee as proper exercise is equally important for proper growth and development. Buyer will also take care not to overexert the puppy until fully developed.

7) Under no circumstance does seller grant cash refunds or accept any liability for medical expenses, veterinarian fees or any other expenses related to the care of your Cane Corso.

8) At Casanova Cane Corso, we have done everything to produce stable-minded puppies, both in breeding and early socialization. However, no guarantees are made regarding temperament. The temperament of your puppy is based on the amount of time YOU give to your dog and to its development and socialization. Buyer agrees to enroll puppy in Puppy Kindergarten class at 3 months of age and Basic Obedience by 10 months of age with a certified trainer in a class setting. It is also recommended that you enroll your dog in a refresher course at 18 months. Under no circumstances should rough training methods be used on your Cane Corso. Proper socialization and training is a must for your puppy.

9) Puppies will carry the Casanova name; this will be reflected on their registration papers. The name should appear as "Casanova's ______."

10) Registration papers will reflect limited registration for all puppies unless purchased as a show potential dog (co-ownership contract required). This means the dog is NOT to be bred. ONLY DOGS PURCHASED ON FULL REGISTRATION, ON A CO-OWNERSHIP AGREEMENT, AS SHOW POTENTIAL PUPPIES MAY BE BRED.

11) In regard to altering spay/neuter: Casanova recommends not altering puppies until a year old, for health reasons. We would be happy to discuss these options with you.

12) Regarding breed/show potential puppies: In the event of a female show potential puppy, puppy is not to be bred before 24 months of age, or second heat cycle whichever comes first. For either gender, Buyer agrees to breed only to other purebred Cane Corsos of sound temperament and health. We will be happy to assist you in finding a good mate for your Cane Corso. Our dogs are of superior breeding and it is our desire that their offspring carry the same quality both in temperament and conformation. Furthermore, offspring from this dog will never be sold to puppy mills or pet stores to be resold for profit. Buyer must be responsible to place all offspring directly into good homes. In the case of a breed/show male to be used at stud, buyer agrees to use a stud contract same as or equal to the Casanova Cane Corso Stud Contract. If this contract is in regards to a female, said bitch will be bred in accordance with Casanova Cane Corso's Breeders Code of Ethics and this contract. All sales will be in writing by contracts same as or equal to this document or documents supplied to buyer from seller. Seller retains the right to use, at Sellers expense, any breed/show males as stud on any female owned, co-owned or leased by seller, with the understanding that no stud fee will be paid to buyer by seller. If said puppy/dog is female, Casanova Cane Corso is entitled to one puppy back on bitch's first litter. Casanova Cane Corso is not entitled to any puppies thereafter.

13) If you are no longer able to keep the puppy/dog, Casanova Cane Corso has first option to purchase it back for no more than original purchase price. In no event will the dog be placed in a shelter without contacting the Seller first, and allowing a weeks' notice to make accommodations.

14) Entropion, Ectropion, Demodex mange and Glandular hypertrophy (Cherry eye) are considered common to the breed and are not covered under this contract. Knee injuries are considered a common injury for large, athletic breeds and are not considered an inherited defect and are not covered under this contract.

15) If the puppy dies during an elective surgery, the Seller is not responsible for refunding money or giving a replacement puppy. This includes if the Seller has the puppies ears cropped for the Buyer. Puppies have died during ear cropping surgery; do not take this decision lightly.

16) Buyer agrees to provide yearly veterinarian exams and keep puppy up to date on vaccines.

17) Puppies should be on a food formulated for adult dogs. We recommend you feed a high quality food, as proper diet will help your puppy maintain good health. You MUST be sure that the Protein levels are at or below 28% and Calcium/ Phosphorus ratios as close to 1/1 as possible. No guarantees will be made for puppies fed a raw diet prior to 2 yrs of age.

18) Buyer agrees to inform Seller of any address and/or phone number changes and if for any reason Buyer is unable to keep the puppy/dog Seller has first opportunity to take/buy the puppy/dog back. Seller will help in placement of the puppy if the Buyer is unable to keep it. Under no circumstances is the puppy/dog to be surrendered to a shelter or an unapproved home.

19) Seller retains the right to visit the dog or have a representative visit the dog to monitor the dogs wellbeing. If the dog at any time is found to be mistreated by reason of abuse or neglect the seller has the right of immediate possession with no reimbursement, should this clause need to be enforced the buyer shall forfeit the dogs registration papers to the seller within seven (7) days of the seller taking possession. No replacement will be given due to problems that result from buyer's negligence however, if negligence is noted buyer agrees to return dog to breeder along with registration papers.

20) No replacements will be given unless verification is provided, that the puppy completed Puppy Kindergarten and Basic Obedience classes during the time frame stated in #8 of this contract.

21) Buyer is responsible for all shipping charges, including returns and/or replacements.

22) Buyer agrees to never engage the dog/puppy in any illegal activity.

23) Any breach of this contract will result in payment to the Seller in the amount of $2,500.

24) This contract is limited between Seller and 1st Buyer. It is nontransferable.

25) Any/All legal actions are to take place in Wayland, NY. All legal fees, including Seller's lawyer fees, are the responsibility of the Buyer and shall be paid in full by the Buyer.

26) Upon signing below, both Buyer and Seller agree to all terms stated within this contract.




Casanova Cane Corso is a New York Start Licensed and Inspected Facility PD# 1008

Casanova Cane Corso 585.519.1580 casanovacorso@gmail.com Wayland, NY